1. How long can I expect to wait for my number plates?
We begin working on your plates pretty much as soon as we receive the order. Under normal circumstances,
number plates
are despatched the same or next working day from us receiving your order. The exception to this are the plates which display the carbon fibre effect domed digits. These do look fantastic and because of that these plates are despatched within 3-5 days of the order being placed. Basically, any plates that you order that are not the carbon fibre domed effect can expect to be received in 2-3 working days and the plates which do show the carbon fibre domed effect in about 5 working days.
2. I do not see the size I require, can you accommodate?
With our CNC routing technology, there is not a size of number plate that we cannot create. Because we use a CNC router to cut our
number plates
, the corners are rounded and the edges are smooth just as you would expect with any other size of number plate. If our site cannot give you the size you want then we're here for you. Give us a call on 0845 838 5167 (office hours) or e mail us by
clicking me
. We will be happy to assist you.
3. Can I supply my own artwork for inclusion?
You most certainly can! At Demon Plates we are the best when it comes to making
number plates
to a bespoke design. If you do not see a badge or background image of your choosing then you can of course supply one to us for use on your plates. Please supply your image to us in one of the following formats : gif/jpg/pdf/ai/eps. Please ensure that your artwork/image is no greater than 1 meg in size and e mail it, your contact details and a brief description of your requirements to the following address :
gthrelkeld@mac.com
Other than that, give us a call on 0845 838 5167 (office hours) and we'll be happy to discuss your requirements.
4. Are you registered with the DVLA to make number plates?
Yes we are and have been since the Register Of Number Pate Suppliers (RNPS) was set up on the 1st Jan 2003. Our registration number is : 3396.
5. Are you able to make the old black/silver number plates?
Yes we can however ours are non-breakable acrylic and not pressed steel as they used to be in the old days. In the UK, only vehicles which were made prior to 1973 are permitted to show black/silver
number plates
, so you have been warned. To order black/silver
number plates
then you need to do so on the telephone and not on this web site. Call us on 0845 838 5167 (office hours) and we will be pleased to assist you.
6. Will my number plates arrive pre-drilled
No they will not. All vehicles have their fitting holes in different places and for this reason we do not pre-drill your
number plates
. We always recommend that you use the sticky pads in our
fitting kit
. When ordering
number plates
on our plate builder, a
fitting kit
is included in the price you see but you do have the option to remove it.
7. How long do I have to cancel my order?
number plates
are a bespoke item and are made especially for you and nobody else. At Demon Plates, to ensure that we keep our customers happy with rapid delivery times, we start on an order as soon as it is received. Because of this it is not possible to cancel or amend an order which has been placed on either the internet or the telephone. You should be sure when placing an order that you do in fact wish to place one and that you place it correctly using all the correct details.
8. Do you take telephone orders?
We sure do. If you do not wish to order on this web site then please do call us on 0845 838 5167 (office hours) and we will be more than happy to take your order by telephone with your credit/debit card as payment.
9. Can I pay you by cheque?
Sorry folks, we work at speed to achieve a rapid turn around of our
number plates
. Accepting cheques just slows the whole thing down through waiting for them to clear through the bank. For this reason, our plates may only be ordered with a credit/debit card either online or on the telephone.
10. Can you show me a design before you make the plates?
Yes and we're happy to do this for you. However, to deter time wasters we do not carry out any design work without an order first being in place and payment details taken. You call us up on 0845 838 5167 (office hours), we'll take the order from you on the phone and then e mail you the design as many times as it takes till you approve it. Our
number plates
are the best and this is another example of our service being the best also.
11. Can I have my plates sent to an address different to my cardholder address?
Sorry, no. This is something that we are very serious about for two reasons. Firstly, we are more than aware of the problem with car cloning and by only sending
number plates
to the cardholder address we are making a big effort in our bid to reduce it. Your number plate is yours, you would not want us selling plates showing your number to somebody else would you? Secondly, we do not want to suffer as a result of credit card fraud. It has happened many times in the past and we take every measure to try and ensure it does not happen in the future. Sorry, we only send our
number plates
to the credit cardholder address and these details are stringently checked.
12. Will you make plates with an illegal spacing?
To mis-space or mis-represent your numbers is an offence under the Road Vehicles (Registration and Licensing) Regulations 1971. Here are typical examples of how a registration number should be spaced: MD55 HTY, W345 BMA, DFG 345T. We will do this for you but be advised, the plates will be supplied to you strictly for off road / show use only. The answer to this question is yes but you have been warned!
13. Do you really sell Registration Numbers including a set of plates for only £20.00 + delivery?
No we do not. As the site clearly states in many places : Very Important. You cannot simply make up a registration number and use it on the UK highway. Either yourself or the person you're buying for must already own the registration number you will use. Demon Plates do not sell registration numbers, we simply make
number plates
.
14. Is it legal for me to have a badge on my number plates?
Due to interpretations of the law and the differeing opinions of police officers on it, we do not like to comment on what the law does and does not state. Instead you are urged to visit the DVLA web site where you will be able to do your own research and arrive at your own opinion prior to placing an order. We at Demon Plates make both road legal (UK use) and show plates for off road use. If you are in any way concerned then you should consult the DVLA web site as that is what it is there for.
15. Do you ship your number plates internationally (outside of the UK)?
Yes we do. We do and have shipped our
number plates
to many countries in the world. With our design software and CNC routing technology we can recreate any design or size of number plate. If you are calling us from outside the UK then please do so on 0044 845 838 5167 (in UK office hours - Monday to Friday 9am to 5pm) and we will be more than happy to help. Sorry, English language only though I'm afraid.
16. Can I order a single number plate and not a pair?
Yes you may, see below a screen shot from our
plate builder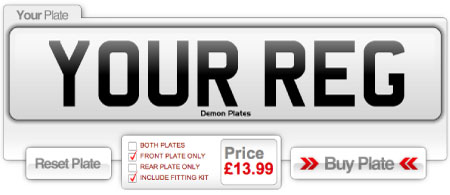 To the left of where the price is shown, you will see that you have the option to select both plates, front plate only or rear plate only and the price will change accordingly. You may add as many single or pairs of
number plates
as you wish to the basket and buy them all in one transaction with one carriage charge
Click Me
now to go straight to our
plate builder
17. Can I order multiple sets of number plates in one order?
Yes you may, you may add one plate, one pair or as many single or pairs of plates as you like to the basket and make your purchase in one transaction. To proceed to the
plate builder
and order
number plates
then
click me
.
18. Will the number plates show the makers details and the legal markings 'BSAU145d'?
Yes our plates will show these markings because this is what the UK law requires for plates which are used in the UK. People seem to think that we put these markings on the
number plates
because it gives us free advertising. This is most certainly not the case. We put these markings on there because it is required by law and your car could very well fail an MOT without these markings. The markings are only 2.5mm high and although they can be read, they are really small and do not interfere with the plates design. The markings have to be on plates made by companies within the UK for plates used within the UK to assist the police in the reduction of car cloning. If a set of our number plates are used in crime then the police know who made them and they will come to us to ask who they were sold to.
There are no products to list in this category.