Rear Window Stack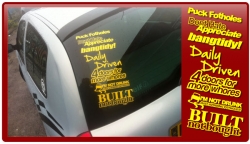 Rear Window Stack
Move your mouse over image or click to enlarge
This graphic is great ... how much is it?
The full stack as you see it is £14.99 @ 400mm (approx 16") high. The stack is available in larger sizes and the sizes available are shown below.
What colours are available?
This great graphic is available in a variety of colours. See below and choose your colour from the drop down menu.
How do I fit this cool graphic?
This graphic will come to you as one perfectly spaced item which is ready to fit. Click the link (above) to watch a video of this product being fitted. The video shows a 'side sponsor stack' being fitted but don't worry ..... the procedure is exactly the same.
OK, I love it! How do I order and how long will I wait?
Easy, you can place the order right here on-line or give us a call. From placing your order, you should have these great graphics in around 2-3 days. By phone, our number is below and you can get us on this Mon to Fri, 9am - 5pm.
0161 343 7053
Showing 1 to 1 of 1 (1 Pages)